Getting around in a wheelchair is not always easy as most homes are planned for people who can move around on their feet. Some homes, unintentionally of course, are designed in a way that is extremely unfriendly to wheelchairs. Below are some changes you can make to your home that will make things a lot easier for someone with a disability.
Install a wheelchair ramp
The first adjustment you should make is the entrance to your home. If you have space, put up a wheelchair ramp in the entrance to the house. Ramps vary depending on the size and materials. When designing your ramp, ensure the passageway is spacious enough and put handrails into consideration, a non-slip outside and a cover.
Take a look at this example: Modular Metal Ramp System
Adding rails to different parts of the house especially on bathroom walls will increase safety and comfort. With a grab bar, they can easily use the toilet  without any risk of falling. Bearing in mind the fact that the bathroom has the highest risk of accidents and the most challenging area of the house. Ensure that there are bars to grab in the shower and also a seat in the shower. It is also advisable to change the flooring to anti-slip tiles.
Invest in a Portable Hoist
Getting out of the bed in the morning can be a real challenge to people with mobility issues, and the obvious answer is some kind of hoist. Having a static ceiling hoist would certainly suffice, but not everyone wants to make such a modification to their homes. The Free Standing  Skyframe is another option and this device will make the whole activity a stress free experience. You can use this versatile hoist for any lifting and moving activities around the home.
 
The doorway is one of the most difficult areas whilst moving around in a wheelchair. It can make things easier if you widen the doorways in your home for wheelchair users to have a safer and more pleasant experience. Changing the way your doors open can make a massive impact turning your entrance into an accessible space.
Floors can also pose problems when you navigate from room to room on wheels.  If you have your house decorated with rugs and carpets, it can make things more difficult.  An ideal flooring is a tile or hardwood, although you can also make use of a low-pile carpet.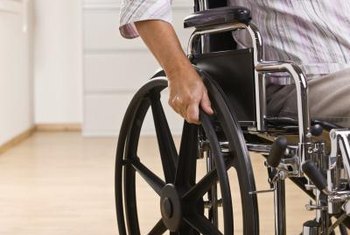 There are so many changes and modifications you can make to your property; these are just a few thoughts to get you started. Moving around in a wheel chair can be pretty challenging, but these suggestions will make things a bit easier.
Moorings Mediquip can help you with some ideas in case you need further guidance and information about home adjustments.
Visit our Facebook Page for all the latest News and Offers..